✅ Sign up process for donors
Donors sign up to Swiftaid once through any donation flow that has integrated with Swiftaid.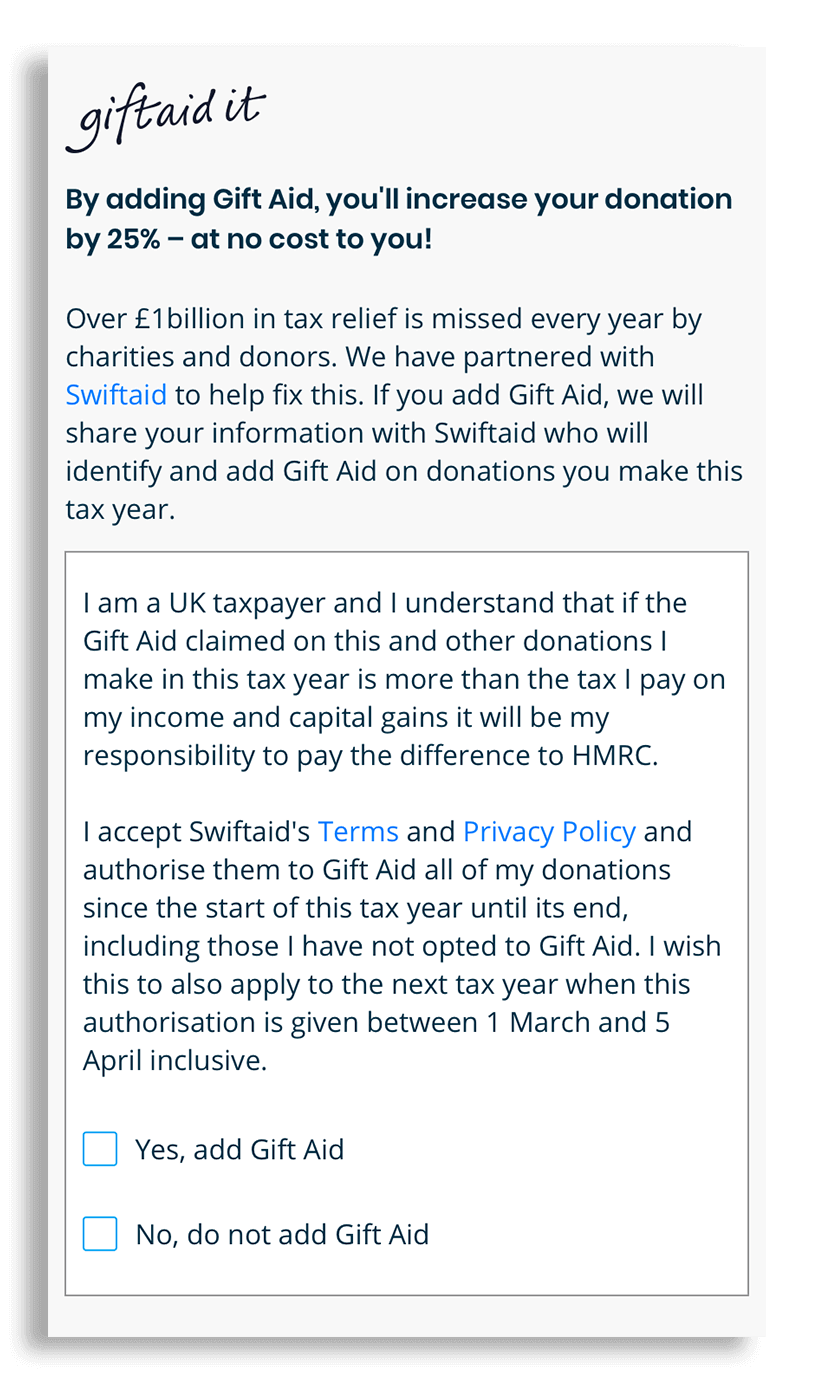 Acting as a Gift Aid intermediary, Swiftaid creates a declaration every time the donor makes a qualifying donation through any platform or hardware integrated with the service.
Each tax year donors will reauthorise Swiftaid to add Gift Aid on their behalf. This is done through a reminder included with their end of year Gift Aid statement or the next time they complete a Gift Aid declaration within a donation flow.
When a new user makes a donation, they are asked to tick a box to confirm they are a UK taxpayer, and that they are happy to share the following information with Swiftaid;
Email address
First name
Last name
Home address
This information is needed as part of creating a Gift Aid declaration for HMRC
The donor only needs to do this once.
If a donor is already signed up to Swiftaid through your platform or any other integrator, Gift Aid will be added automatically.
How the automation works
When a donor is making a donation and enters their email address or another identifier linked to their Swiftaid account, an API call can be made to see if the donor is known to Swiftaid. If yes, they can skip the Gift Aid declaration step in your flow and a declaration is created on their behalf automatically. If not, they can add Gift Aid this time to authorise Swiftaid to add it to qualifying donations they make through any integrated platforms.
You can see a full overview of the donation flow here:
Sketch Cloud links:
Gift Aid flow for single donations
Gift Aid flow for fundraising donations
---
🔔 Notifications Swiftaid sends to donors
1. Welcome email
When a donor registers with Swiftaid for the first time, they receive a welcome email from Swiftaid. This email is co-branded with the same donation platform the donation was made through.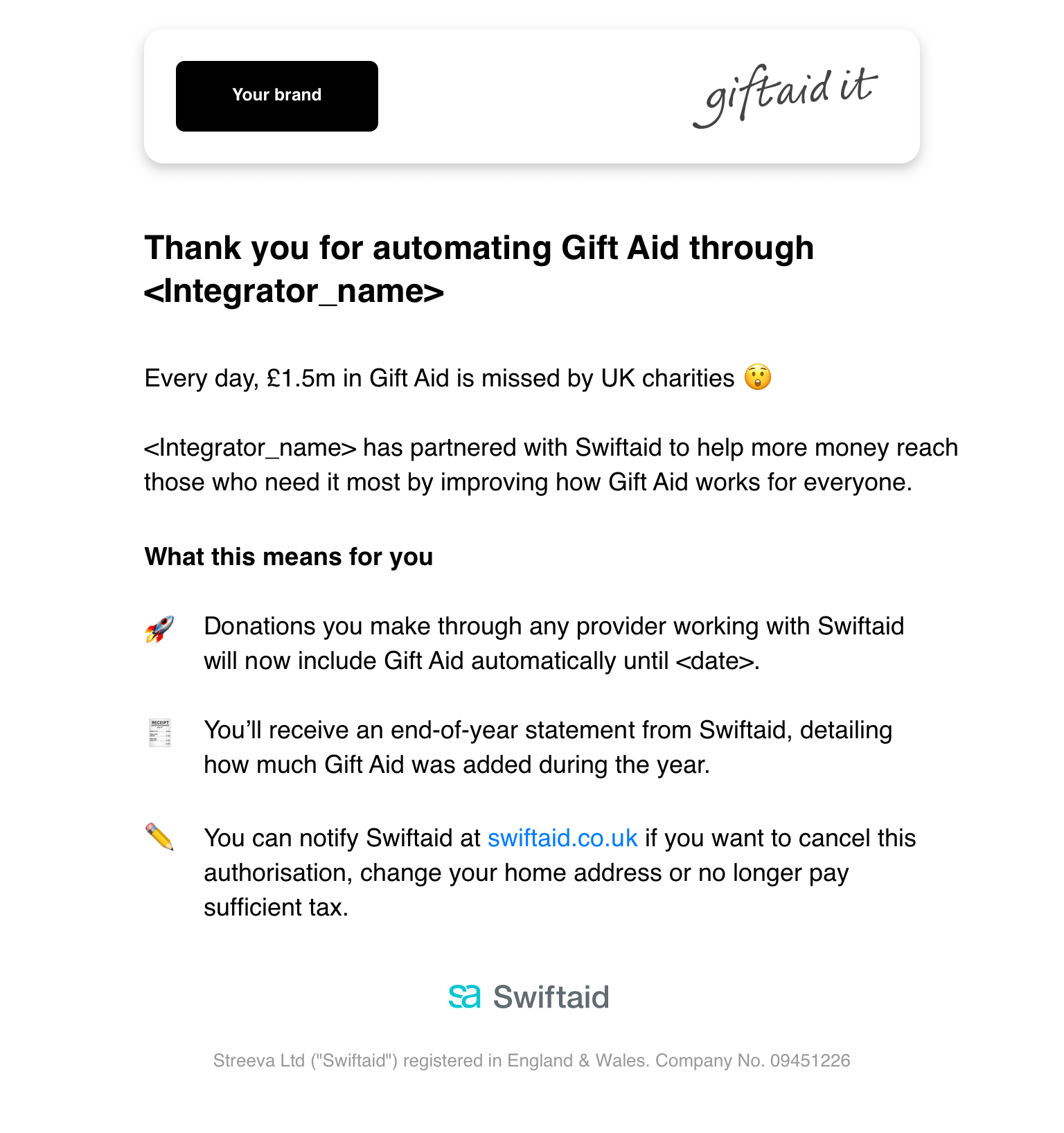 2. Donation notification email (optional)
You can decide whether or not donors will receive an email from Swiftaid after each donation.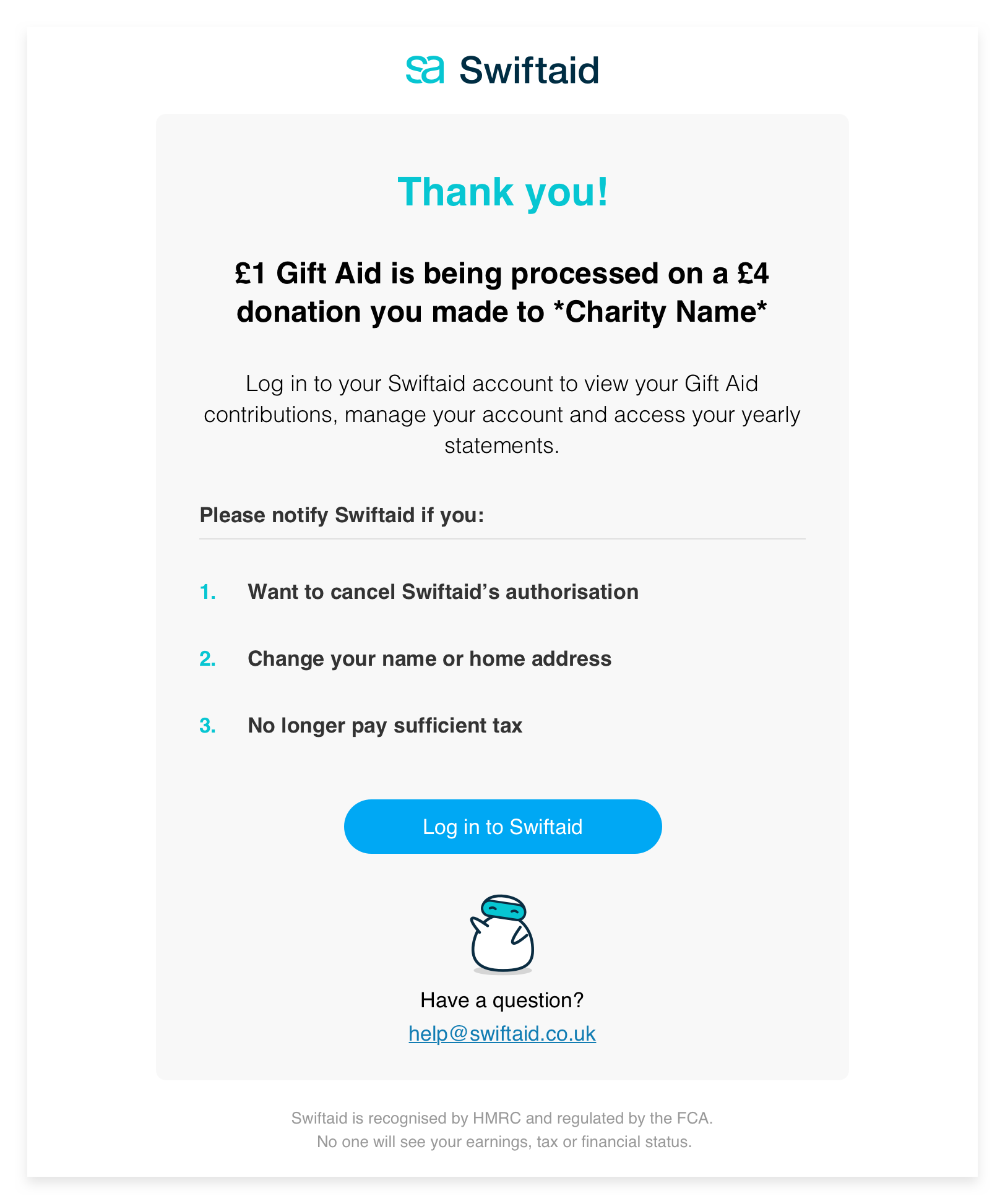 3. Statement notification email (required)
Donors will receive an email from Swiftaid each year giving them access to their statement.