Swiftaid went live with its initial contactless Gift Aid solution earlier this year, working with charities to process Gift Aid on their donations.
Today, Swiftaid is excited to announce that they are moving to a better contactless solution for charities and rely on the payments industry to implement simple changes needed to enable PAR.
What is PAR?
Payment Account Reference or PAR is a simple, secure way of identifying someone's payment details even if the card is being used via Apple or Google pay.
HF8736492K00YE738466GTYD76520

Example PAR
The PAR itself is a fixed-length data element designed to be a unique non-financial reference for all cards across the global payments ecosystem. It's a bit like giving a payment card a unique nickname, that can never be used to make payments, but can be shared more easily with third-parties who offer services on top of payments.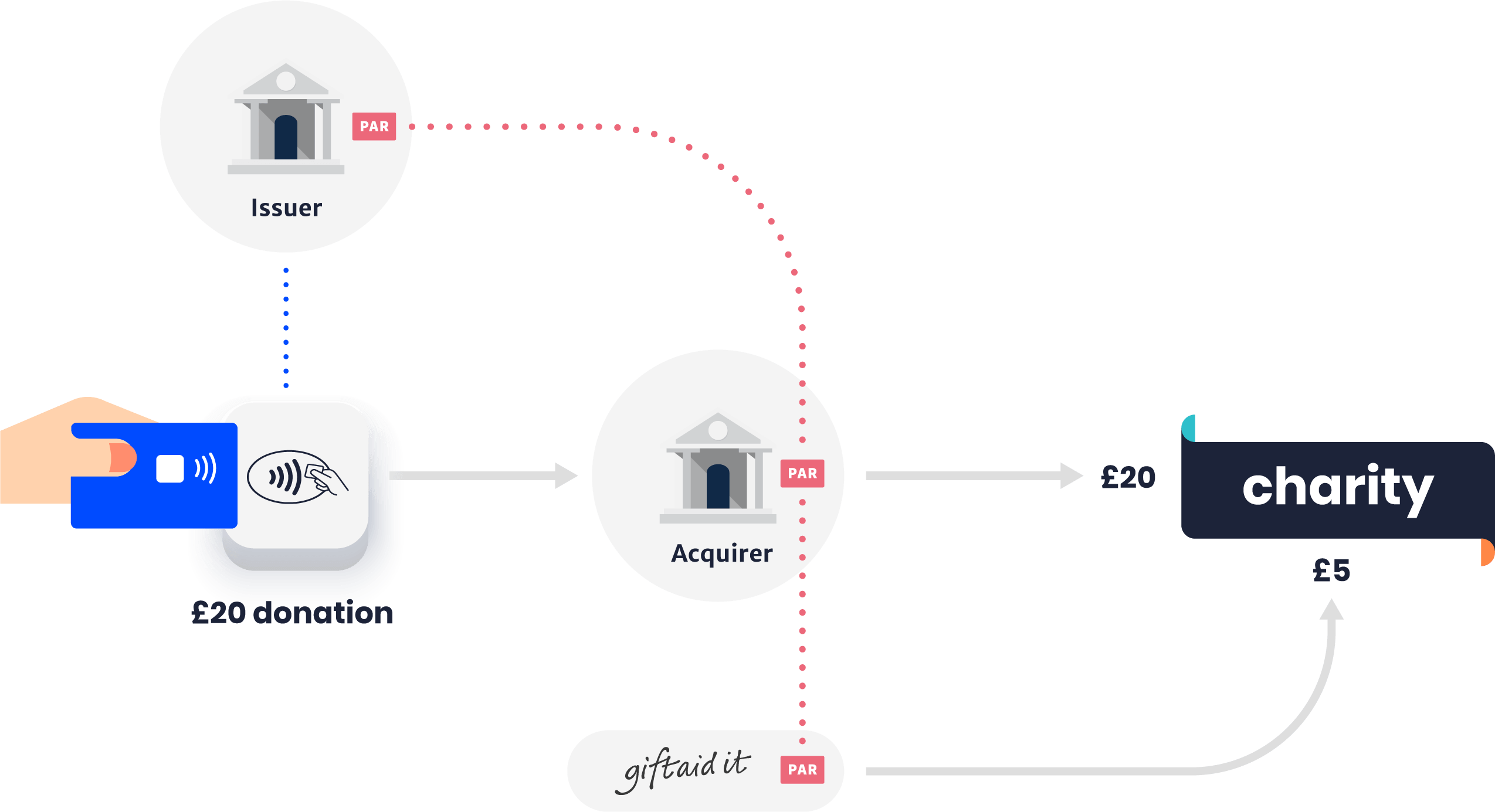 Why is PAR the future of contactless Gift Aid?
Contactless is growing and is predicted to generate well over a billion pounds for charities every year within the next few years. PAR is the most effective and beneficial way of enabling these donations to be boosted automatically by 25%. Along with giving donors the ability to add Gift Aid on donations up to 4 years old, it will allow donors to enable automated Gift Aid through indirect sources, such as through their personal bank account or when donating online. PAR is cheap for businesses to implement, is already supported by over 90% of issuers and is a perfect way for companies to massively help charities at a time when it's needed most.
We're asking all Banks, acquirers, terminal providers and payment gateways to plan for PAR in their product roadmaps. All that's needed is a small change to the way you send and receive payment data – basically, all you need to do is just make sure the PAR is included. It's a minor adjustment, but one that can have a hugely-positive impact on UK charities to claim Gift Aid on contactless donations more effortlessly and effectively. Oh, and it's required as part of Visa scheme rules! (section 4.1.1.16 and 7.10.1.1).
How to get ready for PAR
There are no required changes to ISO 8583 messaging to use PAR. The PCI SSC does not consider PAR to be PCI account data and on its own is not subject to the requirements for protecting PCI account data as specified in the PCI DSS.
As such, it shouldnt require much work to get ready for PAR.
EMVCo has assigned EMV Tag '9F24' for the PAR Data. Terminals should be able to pass the PAR Data along with other EMV data to the Merchant's Payment Processor or Acquirer within Field 55.
Additional resources
---